Click here to go to the Help index page.
The Dashboard tab is selected by default when you launch S.O.S. Security Suite. This tab can help you to detect and repair security, storage, software and hardware issues. You can also easily turn the System immunization or Execute prevent on:off, and quickly start a threat scan.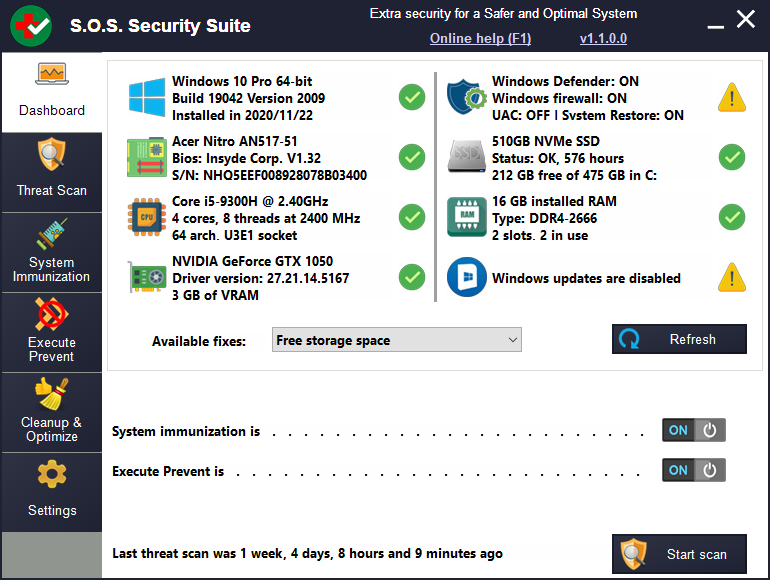 How to use
S.O.S.Security Suite scans your system and displays available information in the top pane of the dashboard:
Windows version, architecture, build number and install date.
Security software status: Antivirus, Firewall, UAC and System restore.
Computer and firmware make, model and serial number.
Storage device status and free space
CPU, RAM and graphics card analysis.
Windows automatic updates' state.
Below that list you will see a drop-down box, with a list of fixes to the issues found when scanning your system, as mentioned above. Just click the list and select an item to automatically execute the fix.
To the right of the drop-down box there is also a Refresh button that lets repeat the scan to see if the issues persist.
Bottom pane
In the bottom pane you have two switches that let you quickly enable or disable the System Immunization and Execute prevent. If those features have never been enabled before, clicking these switches just takes you to the corresponding tab. Otherwise, when enabling System Immunization or Execute prevent from these switches, the last selected settings are used.
Finally, the bottom pane also displays how long the last threat scan was executed, and lets you quickly start a new one, by clicking the Start scan button.