Click here to go to the Help index page.
S.O.S. Security Suite's Cleanup and Optimize tab lets you easily improve your computer's privacy, performance and storage space. You can switch to this tab by clicking the corresponding tab button, in S.O.S. Security suite's application interface.
This tab also lets you repair common issues. Is your Internet browser not workig properly? Are you getting errrs when installing applications? Are you seing messages saying system files are missing or corrupt? These and many other Windows issues are covvered in the Repair group.
Would you like to schedule your cleanup and optimization to start automatically, and without user interaction? Go to Settings - Scheduled optimization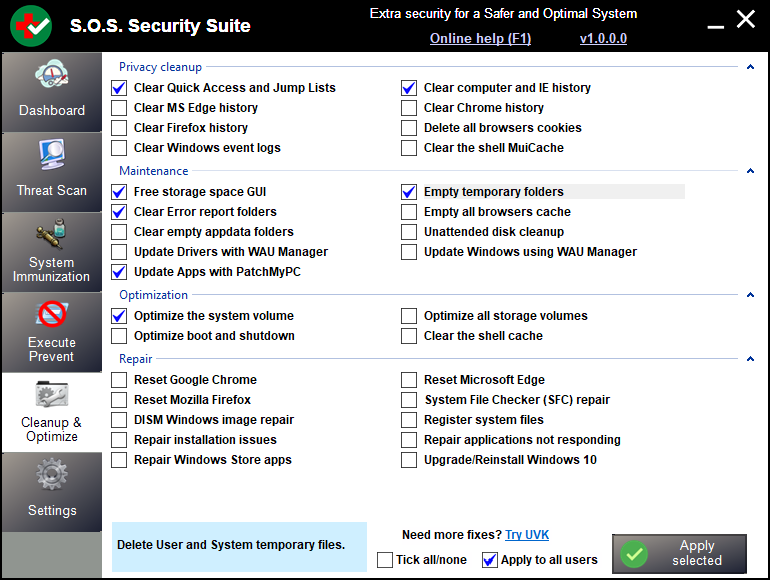 How to use
Select the cleanup and optimization actions you want to apply from the list, by ticking the corresponding checkbox.
To get more information about an item, click its text label to highlight it. A description of the highlighted item will be displayed in the blue text area at the bottom of the application's UI. Because a description of each action is available directly in the UI, we do not present it here.
To help with the selection, you can click on Tick all/none.The check state of this checkbox will then be applied to all the items in the list.
If you want the cleanup and optimization actions to be performed for all users, tick the Apply to all users ckeckbox.
Finally, when you're ready, press the Apply selected button and confirm. S.O.S. Security Suite will then start executing the actions you selected.
If you need more fixes and more powerful repair options, try our premium tool UVK - Ultra Virus Killer.